WHAT TEA IS GOOD FOR DETOXING THE BODY?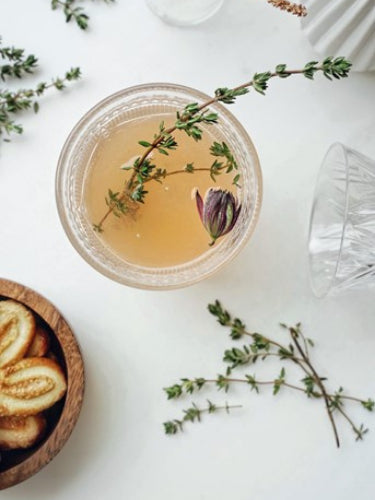 With such a wide range of tea to choose from, many tea-lovers have been left wondering - 'what tea is good for detoxing the body?' Ranging from immune-boosting to digestive cleansing teas, finding the perfect flavour to suit your palate and health goals can be a tricky task to say the least.
So, what tea is good for detoxing the body? Below, we've listed the best detoxing teas to get your hands on - check it out!
What Does Detox Tea Do?
First things first, what does detox tea do for our bodies? Ranging from its digestive benefits to its immune-boosting abilities, we've listed the key benefits of drinking detox tea.


Improve Digestion. One of the core reasons why we'll reach for a cup of detox tea is to take advantage of its digestive cleansing abilities. Many detox teas are designed to have a natural laxative effect on our gut - working to clean-out any waste and enhance many aspects of our digestion.
Fight Off Bloating. Not only is detox tea great for cleaning-out the gut, but it's also good for fighting off intestinal distress. Whether you're dealing with an upset stomach, constipation, or flatulence - detox tea can lend a helping hand.
Support Immunity. Aside from the digestive benefits of drinking detox tea, the beverage is also praised as an immune booster - which can be particularly helpful over those chilling, Winter months. Certain detox teas can include an assortment of organic, immune-boosting elements to help fight-off virus and infection - such as citrus fruits and immunity herbs.
Boost Energy Levels. Are you in dire need of an energy boost? If so, it may be well-worth reaching for a soothing cup of detox tea. Thanks to the many natural components often found in detox tea, a cup in the morning can give you a kick of energy when you need it most. 
 
What Tea Is Good For Detoxing The Body?
Now that we've covered the basic benefits of drinking detox tea, let's dive into the nitty gritty - what tea is good for detoxing the body? Below, we've highlighted 6 great detox teas to try for yourself. Take a look!
1. No. 70: D-Tox Bitters Organic Tea
First up on our list, we have this D-Tox Bitters Organic Tea - designed for dealing with sluggish bowels and livers, as well as an upset stomach. This gutsy remedy isn't for the faint-hearted -  containing organic cinnamon bark, fennel seed, milk thistle seed, dandelion root, and globe artichoke leaf.
 2. No. 71: Pure-ify Organic Tea
Another great option for those dealing with a sluggish digestive system is this Pure-ify Organic Tea. With a fresh, grassy lemon taste, this all-in-one tonic can nourish you from the inside-out. The ingredients include organic dandelion root, dandelion leaf, green rooibos, peppermint leaf, lemon myrtle leaf, and linden flower.
3. No. 62: Dandelion Coffee Organic 
If you're chasing a detox coffee-alternative for your morning ritual, this Dandelion Coffee Organic is well-worth your time. Not only is this rich, remedial brew caffeine free, but it's also great for nourishing a sluggish bowel. The blend is very straight-forward, containing 87% organic roasted dandelion and chicory roots.
4. No. 73: Happy Bowels Organic Tea
For dealing with constipation or an upset stomach, this Happy Bowels Organic Tea is another great choice. This blend contains organic dandelion root, licorice root, fennel seed, Turkish rhubarb, and spearmint leaf. It's the perfect option for those who enjoy an earthy, yet herbal taste.
5. No. 60: Nourish Tummy Organic Tea
There's no other way to say it - this Nourish Tummy Organic Tea offers apowerhouse of health benefits. Not only is the blend great for helping with an upset stomach, but it can also assist with poor circulation and immunity. This sweeter blend is warm, soothing, and comforting - containing organic aniseed, fennel seed, clove bud, star anise, cinnamon bark, and ginger root. It's like a big bear hug for your tummy.
6. No. 24: Cinnamon Ginger Soul Organic Tea
With a wide assortment of health benefits up for grabs, this Cinnamon Ginger Soul Organic Tea is another blend worth checking out. The formula is designed to help with poor circulation, an upset stomach, antioxidant health, and colds - making it a great brew for the Winter season. The blend features organic cinnamon bark, ginger root, and red rooibos to provide a warm, aromatic taste.
*The information in this article is provided as advice only and is designed for those with no healthcare issues. Before changing your diet, speak with your healthcare professional.