RECIPES: RUBY HEART BERRY TEA ICY POLES + JELLY + GUMMIES + ICED TEA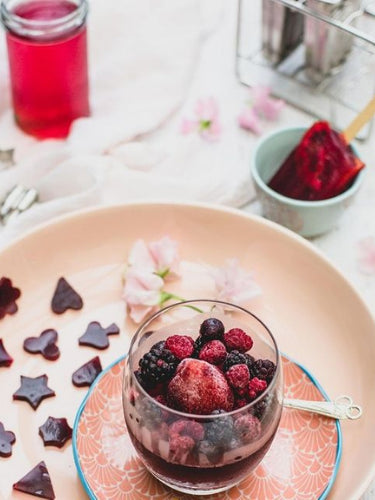 Turn our awarding winning NO: 23 RUBY HEART BERRY ORGANIC TEA into a ruby red icy poles, iced teas, gummies and jelly for kids and adults to enjoy!
Ruby Heart Berry Tea contains organic hibiscus flower, rosehip and juniper berry. It's caffeine free. Traditional therapy: Antioxidant Health. Australian Certified Organic (Aco) No: 11326
Ruby Heart Berry Iced Tea
First turn into a tea… steep 1 teaspoon per cup of boiled water for 3-5 minutes to liberate flavour, aroma and therapy for a perfect cup of herbal tea. While still hot you may add honey, coconut sugar or sweetener of choice as it has a tart fruity flavour. Allow to cool and ice to serve.
Ruby Heart Berry Tea Icy Poles
Add the tea (made as above) to icy pole moulds. Freeze overnight and enjoy! To turn this into something extra special – add the cool iced tea to a blender with berries or watermelon – keep the colour theme the same and freeze. A winning combination.
Ruby Heart Berry Tea Jelly
In a large jug completely dissolve 1.5 – 2 tablespoons gelatin powder (buy a pastured kind from your health food store) in 100mls boiling water. Add 300mls of Ruby Heart Berry Tea (made with 2 teaspoons steeped in water for 10 minutes) and stir until all throughly mixed and pour in to a mould or bowl. Add 1 tablespoon raw honey or rice malt syrup for extra sweetness. Set in the fridge overnight or 3 hours. Serve as is or with fresh fruit.
Ruby Heart Berry Tea Gummies
Simmer 3 tablespoons of gelatin powder in 80mls of freshly made Ruby Heart Berry Tea. Add 3 tablespoons raw honey or rice malt syrup or sweetener of choice. Pour the liquid in a tray lined with baking paper. Allow to cool in the fridge until it has set. Use moulds to cut out shapes. Store in a jar in the fridge for up to 1 week.